Awesome Managed Linux VPS Hosting
A low-cost Managed VPS Linux Hosting USA, with dedicated resources & unlimited traffic.
Reasonable Managed VPS Linux Hosting
ByteNAP Networks provides a Managed Linux VPS Hosting in USA, it has everything which is necessary to be a complete private or separate server. It includes optional root-level access. Best VPS hosting provides you more private and flexible hosting solution, get more power, security and control. Our Best Linux VPS is located at a world-class data center. Prioritize access to technical support with expertise in server configurations. Buy Managed Linux VPS Hosting now!
Best Managed VPS Linux Hosting Plans
Managed VPS Linux Hosting Features​
Virtual Console Access
For quick recovery, retrieve access to your virtual server by connecting via console.
DNS Management
Super easy to create domain zones and edit record directly from your Client Area.
RDNS Configuration
Simplified reverse DNS (rDNS) self-management means very less time consumed reaching support.
LIVE Stats
Monitor your resource usage live in our reliable Linux VPS Hosting. Enable alerts to avoid memory, CPU, or network overuse.
Instant Deployment
Get your instance in 3 simple steps! Configure your Best Linux VPS, fill in billing information & start using your virtual server in 60 seconds.
Full Root Access
Get full control and flexibility on several Linux OS instances – CentOS, Ubuntu, Fedora, Debian, SuSE in our Managed Linux VPS Hosting.
Popular Linux OS
Create a strong environment with a wide range of popular distros : Ubantu, Debain, Fedoara, CentOS and Suse with our Best Managed VPS Linux Hosting Plans.
Scalable Resources
Snatch more resources to support your growing needs! Customize your Virtual Server at the Client Area & stay on a budget using our low-cost Managed Linux VPS Servers.
Geolocated IPS
Advantage from geolocated IPs to lower latency, enhance your SEO proficiency and localize your online business. Our affordable managed linux vps hosting in USA is perfect for your online business.
Get Fast Loading Speed with Linux VPS Hosting
Discover the features of our Linux VPS hosting plans, which include cPanel, Domain, and Email, along with unlimited Domain, Bandwidth, and Disk Space. Find a great offer now!
Managed Linux VPS Hosting Plans Comparison
From single-small website to big enterprise, we've got a VPS Managed Linux Hosting plan for you.
| | ByteNAP | Hosgator | Bluehost | Godaddy | Reseller Club |
| --- | --- | --- | --- | --- | --- |
| | | | | | |
| | | | | | |
| Fast LiteSpeed Web Server | | | | | |
| | | | | | |
| | | | | | |
| | | | | | |
| | | | | | |
| | | | | | |
| | | | | | |
| | | | | | |
| Avg. Ticket Response Times | | | | | |
| | | | | | |
High-quality support services will help improve customer satisfaction. To make your support experience more efficient and pleasant. Our experienced hosting experts are available round-the-clock to assist you via phone, chat, or email with any web hosting or technical queries.
High Quality Linux VPS Hosting
Experience High-quality web hosting, with built-in premium features optimized for speed and performance to rank higher on a search engine.
Feature Rich For Linux VPS Hosting
Feature-rich web hosting services to start, manage and host your website. Get access to essential & premium features, tools and services to help you succeed online.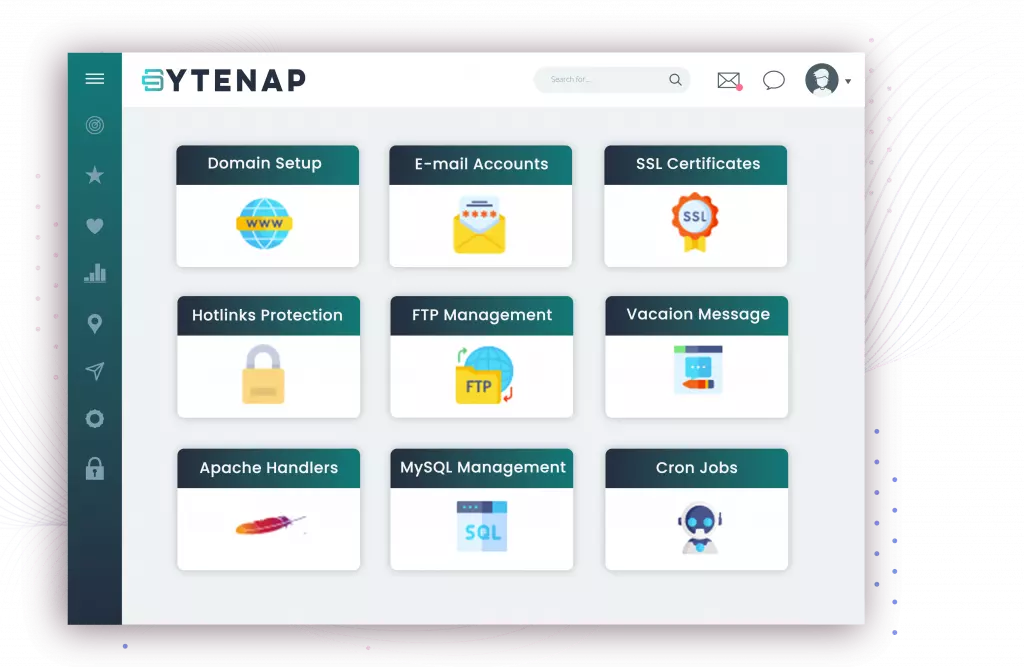 User-Friendly Control Panel
cPanel control panel allows you to manage your web hosting account with ease. Our Managed Linux VPS Hosting includes the cPanel control panel to perform tasks efficiently, reliably and quickly. Anyone can build a website or web application with little web development experience. A wide range of advanced tools & features to satisfy the pro-level users and website developer needs.
Free Domain & SSL Certificates
Secure your website and build trust with your customers & improve your website's SEO ranking by getting SSL Security Certificate. Get a free SSL Certificate and Free Domain with our Business Web Hosting Plans.
We make installing the latest apps easy, in just one-click.
Frequently Asked Questions