Realtime IP Reputation, Honeypots, WAF, Log Analysis, DOS Detection, Malware Detection for WordPress, Drupal, Joomla Infectious Websites & Web Server Security
BitNinja Server Security Plans
BitNinja is an all-in-one security tool and provides a holistic cybersecurity solution and act as the ultimate protection mechanism against WordPress, Joomla, Drupal infections for hosted websites, and as a means for Linux server administrators to monitor system security, health, and debug any operational issues.
Web Application Firewall
WAF is a security feature that filters and monitors HTTP traffic between a web application and the Internet. It helps protect against various web-based attacks such as SQL injection, cross-site scripting, and other common threats.
Distributed Denial of Service
This feature safeguards servers from DDoS attacks by detecting and mitigating abnormal traffic patterns. It helps ensure that your server remains accessible even during a large-scale attack.
Malware Detection and Removal
Bitninja scans for malware and malicious files on your server. It identifies and removes any potentially harmful code or files to prevent them from causing damage to your website or server.
IP Reputation Management
Bitninja maintains a reputation database of IP addresses known for malicious activities. It uses this database to block access from suspicious or blacklisted IPs, reducing the risk of attacks.
Bot Protection
This feature helps identify and block malicious bots and automated scripts that may attempt to exploit vulnerabilities or carry out attacks on your server or website.
Rootkit Detection
Bitninja checks for the presence of rootkits on your server. Rootkits are stealthy malware that attempt to gain unauthorized access and maintain control over the system.
Log Analysis and Incident Tracking
Bitninja provides detailed logs and reports about the security events on your server. This information helps in understanding the nature of threats and taking appropriate action.
Real-time Attack Monitoring
Bitninja offers real-time monitoring of server activity to detect and respond to attacks as they occur. This helps in preventing potential breaches before they can cause significant damage.
Port Honeypot
Bitninja uses honeypots to simulate vulnerable services and attract attackers. This allows it to detect and analyze potential threats, helping to improve overall security.
Acronis Cloud Backup is a cloud-based data protection service that offers secure and efficient backup solutions for businesses and individuals. It ensures the safety and accessibility of critical data by providing features such as automated backups, easy recovery options, and data encryption, making it a reliable choice for data security and recovery needs.
BitNinja provides DDoS protection to shield your server from distributed denial-of-service attacks. It can work alongside other DDoS mitigation solutions to enhance security.
BitNinja includes a WAF that can be configured to protect web applications from common threats. It can be used in conjunction with other WAFs or security plugins.
Malware Detection and Removal
It scans for malware and helps in the removal process. It can complement other antivirus or malware scanning tools.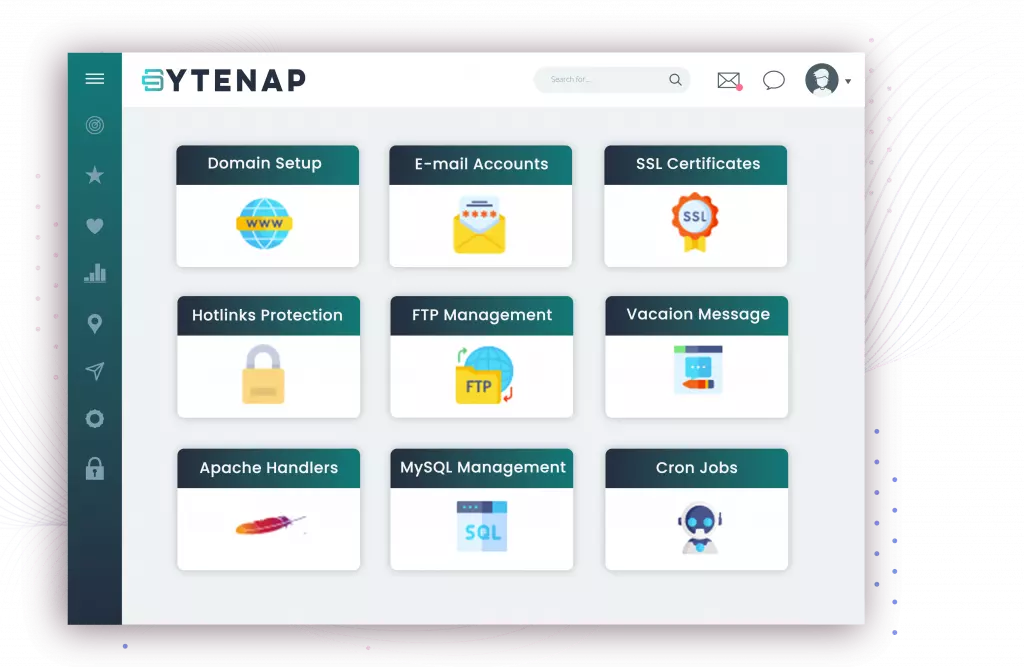 Intrusion Detection and Prevention
BitNinja offers intrusion detection and prevention features that can work alongside other security tools to enhance server security.
BitNinja collects and analyzes server logs to detect suspicious activities. You can integrate BitNinja's log data with other log analysis tools for a more comprehensive view of your server's security.
Didn't hit your sweet spot ?
FTP Account, MySQL Databases,Free Softaculous etc..
FTP Account, MySQL Databases,Free Softaculous etc..
FTP Account, MySQL Databases,Free Softaculous etc..
Frequently Asked Questions
First of all, we check the number of system and non-system users by UID_MIN, MAX, SYS_UID_MIN/MAX, it can be defined in /etc/login.defs. Moreover, we count different users' various folders in /home, /var/www, /var/www/vhosts.
You only need to give your name and an email address to sign up on our website. After this, you receive a verification email to your mailbox with a confirmation link. Then, log into your account, add your servers and the trial starts instantly. No credit card needed to start the trial!